Browsing for reliable inverter generators? Read this Champion 201001 review to narrow down your options.
The Champion 201001 inverter generator is a reliable and efficient choice for your power needs. This Champion generator has a running wattage of 4,000W and 5,500W starting wattage, making it ideal for powering items like small appliances, tablets, lighting, TVs, power tools, and more.
It is perfect for camping trips or any other power-related activity you have planned. With its advanced noise reduction and fuel efficiency, it's sure to make life easier.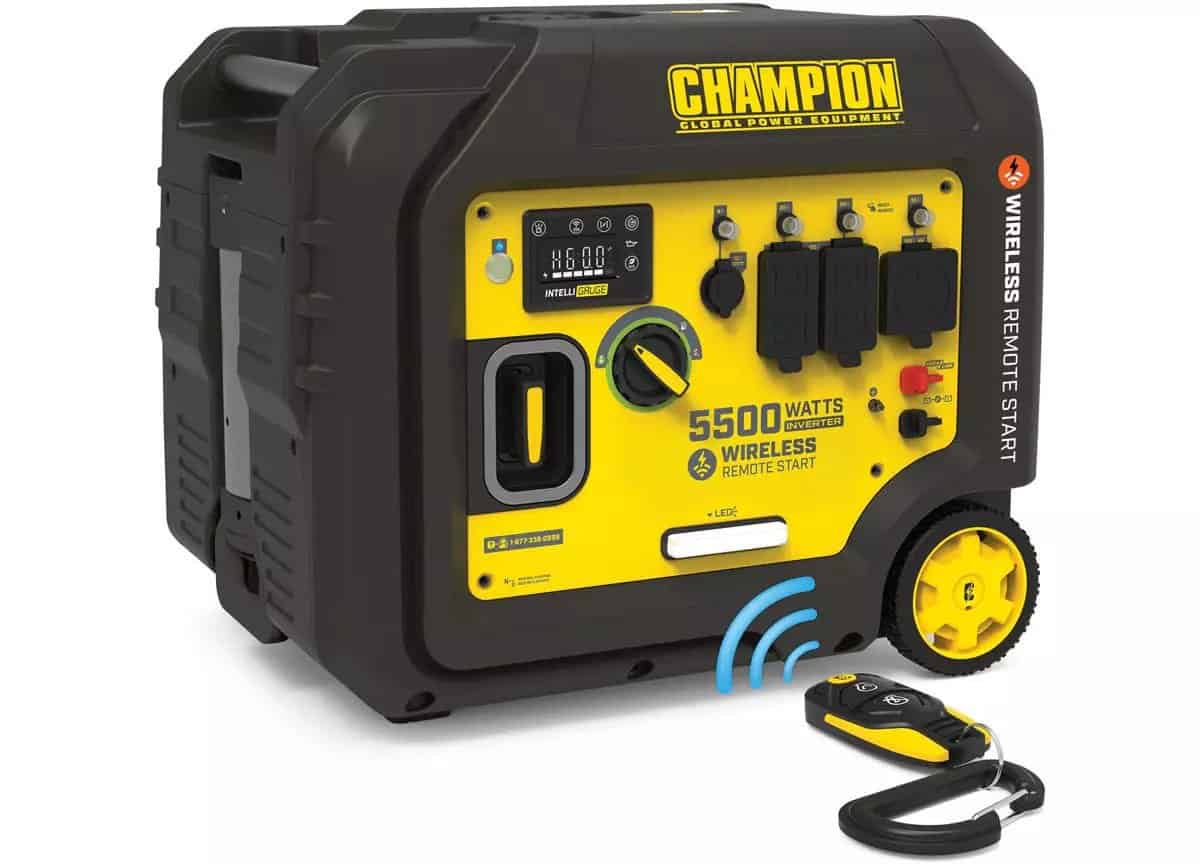 Reliable RV-ready Inverter Generator
Whether you need to power your home in an emergency or take energy on the go, the Champion 201001 inverter generator is a great choice. With its quiet operation, fuel efficiency, and reliable performance, it has everything you need for your next adventure!
Pro's
Portable Design
Reasonably-priced
Fuel Efficient
RV Ready
Overload Protection
Remote Start
Parallel Ready
Fuel Fill Assist LED
Safe For Sensitive Electronics
Con's
Non-CARB Compliant
Slightly Heavy
Champion 201001 Review: Should you invest in this 4,000W/5,500W inverter generator?
The Champion 201001 generator is designed with the latest technology to provide reliable and quiet power when you are away from a traditional power source. It offers plenty of features, and its clean electricity output makes it ideal for sensitive electronics like laptops, phones, and tablets.
Not only that, but the generator also has a USB port so you can charge your devices while out in the wilderness or at home during a power outage.
With the ability to generate up to 4,000W of continuous power and 5,500W surge power, this inverter generator provides enough energy for all your essentials.
And thanks to its lightweight design, it's easy to transport to your next campsite or tailgate.
Whether you are heading out for a weekend adventure or need some backup power at home, the Champion 201001 inverter generator is here to help.
Pricing
At $999, the Champion 201001 inverter generator is reasonably-priced. It has lots of great features and power to handle your everyday needs, so you can be sure that you're getting a quality product at a great price.
Plus, it's backed by Champion's 3-year limited warranty for peace of mind. So if you're looking for an inverter generator that won't break the bank, the Champion 201001 is worth considering.
Design and Features of Champion 201001 Generator
Power and Run Time
A 224 cc OHV 4-stroke engine powers the Champion 201002 5500W generator, producing 4,000W continuous and 5,500W surge power. The engine is designed to run at a low noise level and provide clean and stable power suitable for sensitive electronic equipment.
It also features a low-oil shut-off sensor that will automatically shut down the engine if the oil level becomes too low, helping to protect the engine from damage.
The engine and the inverter system work together to provide stable, clean power that is safe for use with sensitive electronics like computers, smartphones, and televisions.
Additionally, the generator's inverter technology helps to optimize efficient fuel consumption, allowing it to run for longer periods on a single tank of gasoline.
With a 3.7-gallon fuel tank, the Champion power equipment generator can run up to 20 hours at 25% load.
Portability
Inverter generators are portable, and the Champion 201001 model is no exemption. Its dimensions are 24.6L x 19W x 20.9H in, and it weighs 119 lbs.
The Champion 201001 generator is the perfect combination of portability and power. With its wheel kit and handle for added mobility, it's easy to transport, no matter where you need to go.
Fuel Fill Assist LED
For those late-night projects, Fuel Fill Assist LED makes refueling a breeze. This convenient feature on the Champion 201001 generator illuminates the fuel tank and controls to simplify refilling in lighting conditions.
Now you can work around the clock without worry! Plus, with its quiet design, you won't disturb your neighbors while staying productive. Make use of the Fuel Fill Assist LED and never miss a beat!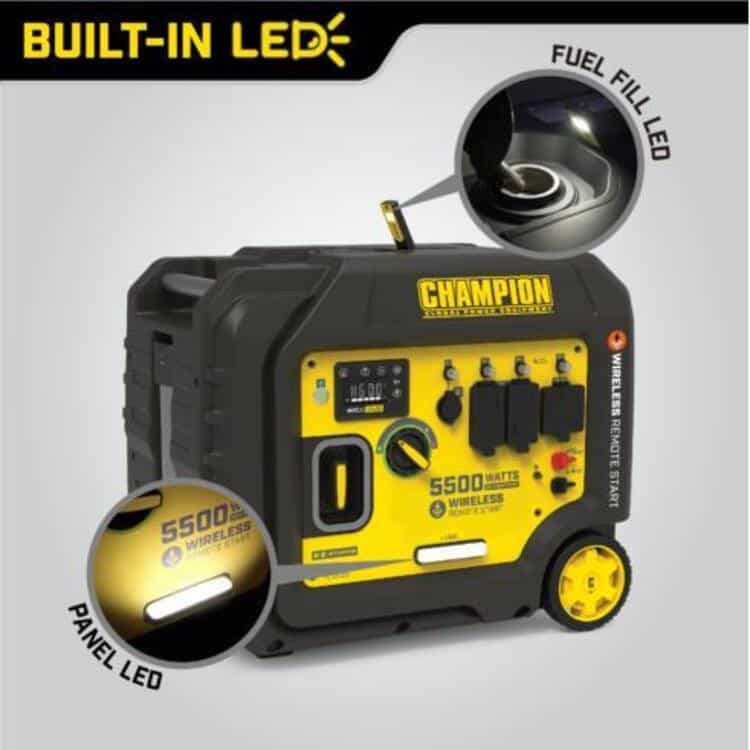 Wireless Remote Start
The Champion 201001 wireless remote start is perfect for anyone who wants easy access to power in various situations. With its integrated wireless remote control, you can start the generator up to 80 feet away!
This makes it ideal for powering large events or camping trips – no more having to manually navigate to the generator and fumble with cords and controls.
Parallel Ready
Another good feature of this generator is it is parallel capable. You can connect two of these generators for more power output.
All you need is Champion's optional Parallel Kit to get started. The kit includes a 25-foot 30A 120V generator cord and an ETL-approved paralleling panel with dual 30A 120V outlets. With this setup, you'll be able to double the wattage of your generators. Get all the power you need in one convenient package!
Clean Power
The Champion 201001 generator is designed to meet the needs of those who need reliable and clean power for their sensitive electronic devices.
It produces Clean Power with less than 3% Total Harmonic Distortion (THD), making it ideal for powering laptops, phones, tablets, and other delicate electronics without any risk of damage from unreliable or dirty power.
Economy Mode
The Champion 201001 generator has an Economy Mode feature, perfect for electronics. This feature monitors power consumption in real-time, ensuring that the generator never uses more energy than necessary. Efficiency and reliability are guaranteed!
With Economy Mode, you can trust that your electronic devices will be safe from surges or dips in power.
Protective Features
The Champion 201001 features both overload protection and an automatic low oil shut-off, ensuring safety and peace of mind no matter the job. You can trust this generator to keep you running with dependable performance every time.
Plus, it's designed to be easy to use – so you can get your work done quickly and efficiently!
Intelligauge with Power Meter
The generator features an Intelligauge with Power Meter, a monitoring system that helps you monitor voltage, frequency, and operating hours without hassle.
This feature makes it easy to stay on top of the health status of your generator so you can be sure it's running efficiently. With its lightweight design and portability, this inverter generator is the perfect choice for all outdoor needs!
Warranty
For extra peace of mind, the Champion 201001 generator comes with a generous 3-year warranty coverage. This means you can have confidence in your purchase, knowing that if any faults should arise within the covered period, we will do our best to help get them sorted out quickly and efficiently.
Enjoy years of reliable performance from your generator without worrying about unexpected costs!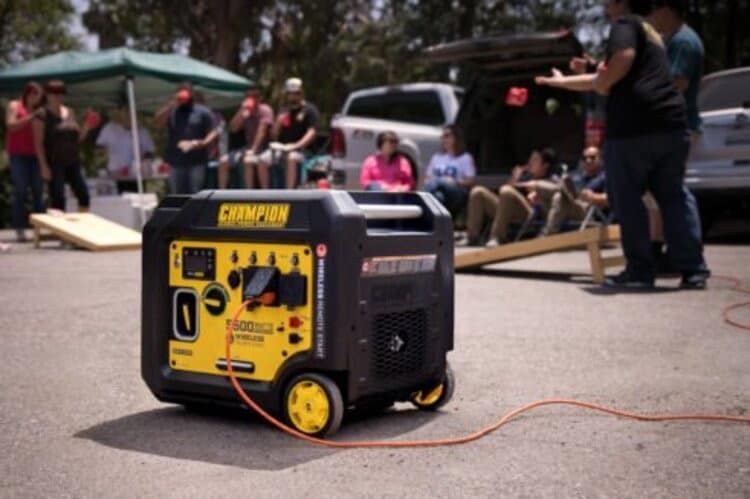 Ebay
Conclusion
Whether you're camping, tailgating, or getting some work done around the house, the Champion 201001 generator has got your back. Enjoy reliable and efficient power with this compact powerhouse!
Get yours today and rest easy, knowing that when you need it most, you have the power to get to where you're going.