Today we will go over the DeWALT DXGNR7000 review. Is it worth it?
I'm excited to share my thoughts on the DeWalt DXGNR7000 Portable Generator. As someone with a lot of construction industry experience, I know the importance of having a reliable portable power source.
That's why I was intrigued by the DXGNR7000, which boasts a powerful engine and multiple outlets to power various devices. In this review, I'll review this generator's key features and overall impressions.
Whether you're looking for a backup power source for emergencies or a reliable power supply for outdoor activities, the DeWalt DXGNR7000 may be worth considering.
This versatile, powerful, and easy-to-use generator is designed to meet all your needs without compromising performance. With dual 120V/240V power outlets, an intuitive LED display showing voltage and run-time information, plus various safety features – this generator has you covered!
Great 7,000/8,750W Generator
The Dewalt DXGNR7000 generator is the perfect choice for anyone who needs a reliable and powerful power solution. This generator provides 8,750 watts of power for 10 seconds to start larger equipment. It can run for more than 11 hours on a full gasoline tank at 50% load.
Pro's
High Power Output
Fuel Efficient
Durable
Low Oil And Overload Protection
Transfer Switch Ready
Recoil, Electric Start
Easy To Transport With Wheels
Suitable as Home Generator
Ebay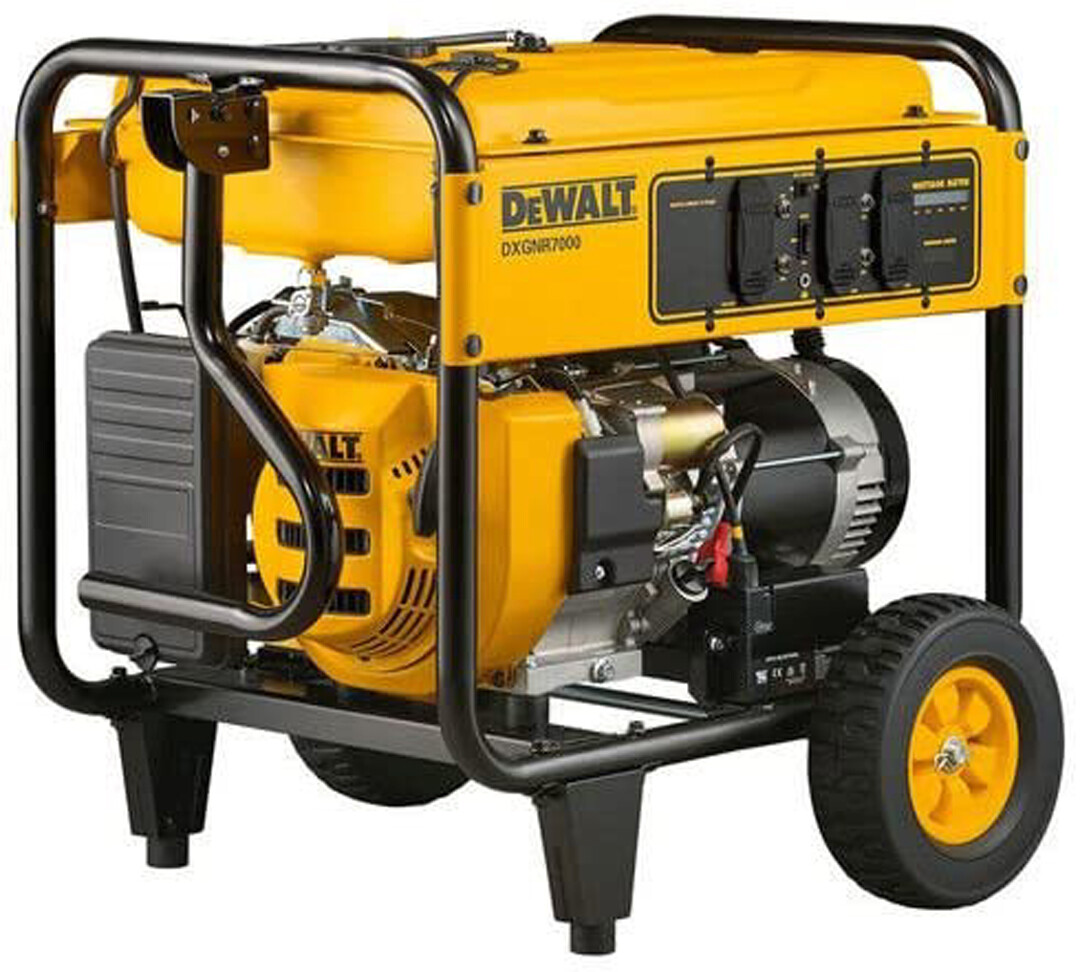 DeWalt - DXGNR7000 - 7000-Watt Gasoline Powered Electric Start Generator
as of 09/24/2023 11:58 am
The DEWALT DXGN7000 is designed with the professional in mind. Equipped with GFCI protected outlets for job site compliance and safety. Never flat durable wheels, for maximum portability and durability.
DeWALT DXGNR7000 Review – Why It's a Top Choice 7,000 Watt Portable Generator
The DeWALT DXGNR7000 is one of the best portable generators and most popular gasoline-powered generator options available on the market today, and for a good reason.
It is reliable, dependable, has compact storage, and delivers a staggering 7,000 watts of power output — enough for almost any general-purpose task. Beyond that, it's made with sturdy components and comes in several different models to match specific needs. It is transfer switch ready, has many available power outlets, and is perfect for rugged working conditions.
On a Construction Site
As a construction worker, I have had the opportunity to use the DeWALT DXGNR7000 Portable generator on several job sites, and it has never failed to impress me.
The generator's powerful output allows me to easily run heavy-duty tools and equipment without any interruption, which significantly improves the efficiency and productivity of the work site.
The generator's durable steel frame and wheels make it easy to move around, even on rough terrain, and the large fuel tank ensures that I can keep working for extended periods without worrying about running out of fuel.
Additionally, the generator's safety features such as the low oil shutoff and GFCI outlets provide peace of mind, knowing that I am working with a safe and secure power source.
Overall, the DeWALT DXGNR7000 Portable generator has been an essential tool in my work as a construction worker, and I would highly recommend it to anyone in need of a reliable and powerful source of electricity on the job site.
Pricing
DeWALT's top-of-the-line DXGNR7000 generator is a great investment if you are looking for a reliable electric source while on the go. With a price starting at around $1,000, it may seem a bit expensive at first glance, but this feature-packed unit is well worth every penny.
DeWALT DXGNR7000 Features
Power and Run Time
This gasoline-powered efficient, potent generator is powered by the 420 cc, OHV 4-stroke premium DeWalt engine. An impressive 120/240V of power makes up the engine's output, providing 7,000W of running wattage and an incredible 8,750W of peak wattage that's sure to get any job done quickly.
Starting the engine only takes seconds, with the convenience of a pull-start or electric starter mechanism available. With its impressive fuel capacity of 7.5 gallons, you can use it for more than 11 hours at 50% load with only 0.68 GPH required for fuel consumption. The brilliant design behind these features makes this one of the most desirable generators on the market today!
Power Outlets
The DXGNR7000 control panel features 5 AC outlets that are primed for a variety of uses. Of the 5, there are two duplexes 120V 20A (5-20R) GFCI-protected outlets (job site compliance) and one 120/240V 30A (L14-30R) receptacle. With this twist-lock L14-30R receptacle, you can easily upgrade the panel to transfer switch ready, connecting it to your breaker box for powering your home during a power outage.
Convenient and versatile, these AC outlets ensure your home is prepared for any possible situation. This best portable generator also comes with automatic voltage regulation. Great for power tools, battery chargers, and other electric devices.
Hardened Steel Frame
The DXGNR7000 has been designed to provide superior comfort and durability. Its hardened 1 1/4″ steel tube cradle adds an extra layer of strength and resilience to make this unit perfect for harsh weather conditions. Due to its robust construction, the improved frame is much more immune to dents, nicks, and cracks.
With this great feature, this generator can last through whatever life throws at it – both on the job site and in your house! With these great features in mind, you can rest assured that the D DXGNR7000 will always be more than up to the task.
Never-Flat Durable Wheels
The DXGNR7000 is a great piece of equipment for those who want to stay mobile and efficient. Its never-flat durable wheels make it easier to take your generator from place to place, no matter how rugged the terrain.
It has also been designed with sustained durability, meaning that you can rest assured that your investment will be protected for years. Simply put, this is an excellent choice for anyone who needs maximum portability and longevity from their generator.
Low Oil Level Automatic Shutdown
The DeWALT DXGNR7000 boasts incredible reliability and safety features, including a low oil level automatic shutdown that will protect your engine from costly damage. This convenient feature means you don't have to monitor the oil continuously, and you can be sure that if the oil runs low, your engine won't suffer from running it dry.
Furthermore, cutting-edge technology allows the engine to start quickly and easily, giving you electricity even in an emergency. With all these features, it's no surprise it is a top choice for those who need reverse power reliability.
Electric Start Button
The DeWALT DXGNR7000 is an ideal tool for just about any job. This amazing generator offers simplicity and convenience in one package; its electric start feature ensures easy, hassle-free start-up every single time. You no longer need to worry about yanking on a cord to get the engine going or running out of fuel – hit the start button, and the engine begins running right away.
Even better, it has a battery included, so you don't have to worry about keeping extra batteries around or charging them up before use – it's ready when you are! Whether using it on a job site or a camping trip, the DXGNR7000 is perfect for creating reliable electricity without all the fuss.
Smart Runtime Meter
Finding ways to work smarter are always a priority for busy contractors, and the DeWALT DXGNR7000 is an ideal choice. This innovative generator has a special smart runtime meter that displays how much power you are using and your fuel level.
It is easy to use with multiple sockets operating simultaneously on low, medium, or maximum load settings. All this makes it perfect for jobs that require reliable results within specific time constraints, giving contractors greater freedom and peace of mind while they work. Its impressive features make it stand out from the competition and draw attention to the advanced technology behind the brand.
Wattage Meter
The DeWalt DXGNR7000 is the perfect generator for any project. With its wattage meter, this generator eliminates the guesswork when evaluating power usage. This feature not only provides instant feedback on how much power is being used but also means that you can confidently use it for any kind of work – big or small.
Its portability adds to the benefits, allowing users to easily move the generator anywhere and have access to backup power when necessary. With so many great features and capabilities, the DeWalt DXGNR7000 is an excellent choice for a reliable and versatile generator.
Hour Meter
For anyone who needs reliable power when out in the field, the DeWALT DXGNR7000 portable generator is the perfect solution. This powerful generator can give you up to 8750 watts of starting power and 7000 running watts.
What makes this generator stand out more than its performance capabilities is its hour meter which tracks maintenance intervals, making it easy to ensure that your generator stays up and running smoothly for years to come.
Plus, because it's a DeWALT, you can be sure you're getting quality at an affordable price. Whether on a construction site or camping in the middle of nowhere, you can have peace of mind knowing your power source won't let you down with the DeWALT DXGNR7000 generator.
Idle Control
For work that requires portable power, the DeWALT DXGNR7000 Generator is the perfect go-to solution. Featuring a fuel-efficient design with idle control, this generator gives users enough power to tackle any task without over-consuming gas or generating too much noise.
By using sophisticated technology to monitor engine usage, the DXGNR7000 ensures that noise levels don't get too high and that fuel isn't wasted. This generator is built for productivity without sacrificing performance or efficiency on the job site.
Warranty
When looking for a reliable and safe generator, the Dewalt DXGNR7000 is one to consider. This generator is covered by a warranty for up to 3 years, though some limitations may not include all parts of the unit.
To better understand the warranty policy surrounding the DXGNR7000, Dewalt's website offers detailed information about its warranty policies. Additionally, if you have any more questions or concerns, you can feel free to contact Dewalt's Customer Support at 1-800-4-DEWALT (800-433-9258). With this level of support, you can rest assured knowing your generator should last for quite some time.
CARB & EPA Compliant
Built to the highest safety standards, the DeWALT DXGNR7000 portable generator is CARB and EPA-compliant. Whether you need to power a construction site, have families in need during an outage, or are just looking for peace of mind for those long camping trips, you won't have to worry about emissions or fuel output with the DXGNR7000. Get DeWALT's great performance today for reliable projects requiring no explanation.
DeWALT DXGNR7000 Vs. The Competition Pulsar PG7750B
The DeWALT DXGNR7000 Portable generator is a high-quality and reliable option in the 7000-watt generator category, and it stands out from other generators in its field in several ways. One of the most significant advantages of the DeWALT DXGNR7000 is its durable construction. The generator features a steel frame that is designed to withstand the rigors of a construction site, along with heavy-duty wheels that make it easy to transport from one location to another. The Pulsar PG7750B, on the other hand, has a smaller, less sturdy frame and plastic wheels, which may not hold up as well under heavy use.
In terms of power output, both generators provide a maximum of 7000 watts, making them suitable for running a variety of heavy-duty tools and equipment. However, the DeWALT DXGNR7000 has a larger fuel tank, which can provide up to 12 hours of continuous operation at 50% load. This is significantly longer than the Pulsar PG7750B, which has a runtime of only 8 hours at 50% load. This makes the DeWALT generator a better choice for longer job sites or those where a constant power supply is needed.
Another advantage of the DeWALT DXGNR7000 is its noise level. At 74 decibels, it is relatively quiet for a generator of its size, which is important on job sites where excessive noise can be disruptive or cause safety issues. The Pulsar PG7750B, on the other hand, produces a noise level of 76 decibels, which is slightly louder.
Finally, the DeWALT DXGNR7000 has several safety features that make it a more secure option. The generator features GFCI outlets, which help protect against electrical shocks, and a low oil shutoff that prevents damage to the engine if the oil level drops too low. The Pulsar PG7750B also has a low oil shutoff but does not have GFCI outlets, which could be a concern for those working in wet conditions.
Overall, while the Pulsar PG7750B is a solid generator, the DeWALT DXGNR7000's rugged construction, longer runtime, lower noise level, and additional safety features make it a superior option for use on construction sites or other demanding tasks.
Conclusion
The DeWALT DXGNR7000 portable generator is an excellent product for anyone needing a reliable and sturdy generator. It has many features that make it an excellent choice for those in the market for a new generator, and its price point is very reasonable. If you are looking for a new generator, I recommend checking out the DeWALT DXGNR7000.
Ebay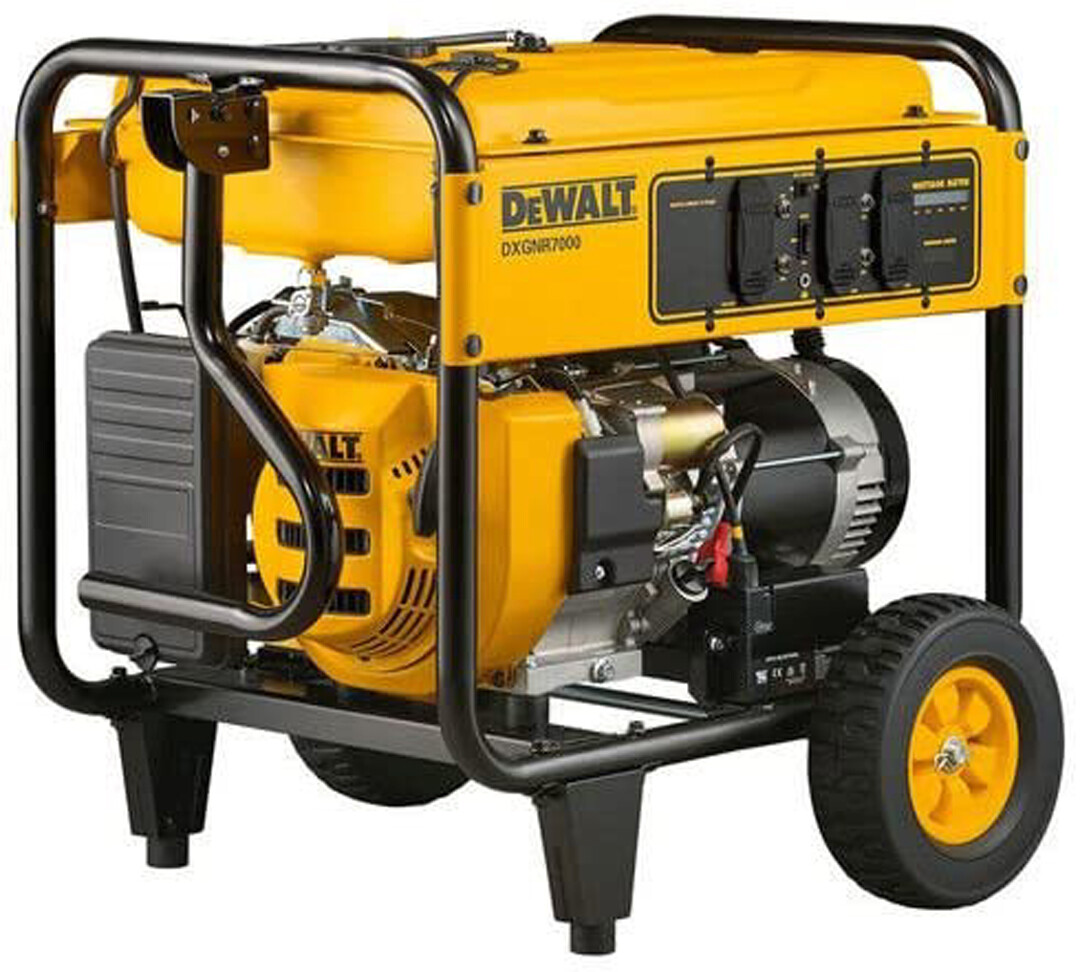 DeWalt - DXGNR7000 - 7000-Watt Gasoline Powered Electric Start Generator
as of 09/24/2023 11:58 am
The DEWALT DXGN7000 is designed with the professional in mind. Equipped with GFCI protected outlets for job site compliance and safety. Never flat durable wheels, for maximum portability and durability.
How long will a Honda DEWALT DXGNR7000 run on a tank of gas?
It can run for about 11 hours on a full tank at a 50% load
What is the Max Fuel Level of the DEWALT DXGNR7000?
It has a fuel tank capacity of 7.5 Gallons
How much does the DEWALT DXGNR7000 weigh?
This Generator Weights 192 Lbs
About DeWalt
DeWalt has certainly made a name for itself in the power tool and equipment industry since it was founded in 1922 by Raymon DeWalt.
Partnering with Stanley Black & Decker, DeWalt continues to have a strong presence within the US, even having seven different manufacturing facilities located in the country to produce their highly popular hand tools, power saws, and other specialty products.
Recently, they've also begun offering an extensive line of portable generators with traditional open-style designs and various output levels, some running on Honda engines.
While most of their products are 'made in the USA,' according to some sources, DeWalt's portfolio of portable generators is not one of those exceptions as they are produced under license from Generac. Regardless, anyone looking for quality home or job site tools would be wise to give DeWalt's offerings serious consideration.