Looking for a reliable portable inverter generator? Read this DeWalt DXGNI2200 review, and judge if this inverter generator is worth it.
The Dewalt DXGNI2200 inverter is designed to provide convenient, reliable power for various applications. It's ideal for camping, outdoor events, and job sites that require clean and quiet power.
This gasoline-powered generator has a starting wattage of 2,200W and running wattage of 1,700W. The 80 cc Dewalt OHV 4-stroke provides consistent power with less noise than other models on the market. Its fuel tank capacity is 1 gallon.
With an easy-to-read LCD display, you'll be able to monitor important metrics such as fuel levels, run time remaining, voltage output, and more. Additionally, the DeWalt DXGNI2200 is equipped with overload protection to keep your devices safe from over-voltage damage.
This 2200-watt generator is also CARB-compliant for use in all 50 states, so you can rest assured knowing it meets environmental standards.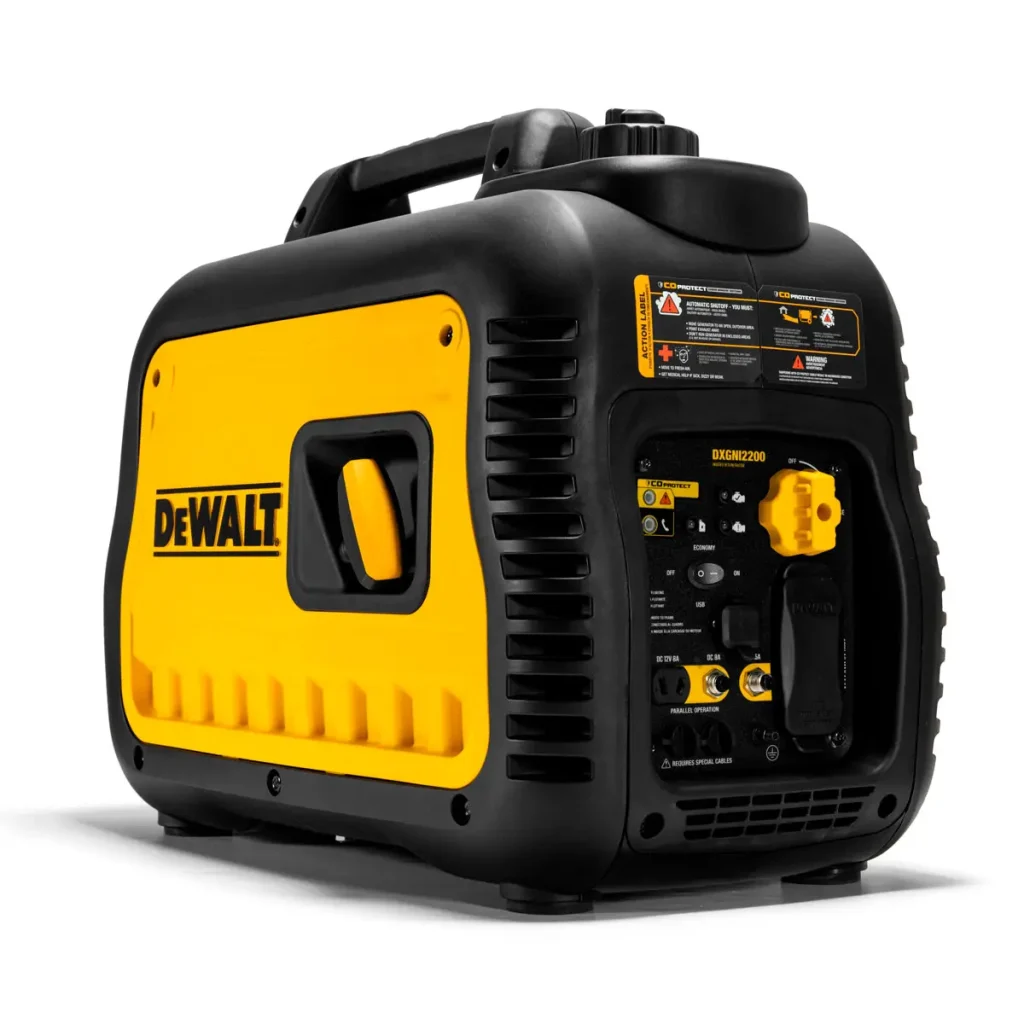 Great 2,200-watt Inverter Generator
The DeWalt DXGNI2200 inverter generator is a reliable and powerful for any power needs. Its low noise levels, advanced LCD, and overload protection make it an excellent option for anyone who needs on-demand electricity at their fingertips.
Pro's
Portable, Lightweight Design
Reasonably-priced
Fuel Efficient
Auto Low Oil Shut-off
Overload Protection
Spark arrester
Parallel Ready
Built-in Fuel Gauge
Light Indicators
CO Protect Technology
Con's
No Data Center
No Electric Start
DeWalt DXGNI2200 Review: What Makes It Reliable?
The DeWalt DXGNI2200 is the inverter generator you need to give you peace of mind while charging your sensitive electronics. This is one of the market's most lightweight and efficient inverter generators.
The inverter technology in this DeWalt generator ensures that the voltage and frequency of the output are smooth and consistent, which is important for protecting sensitive electronic devices from damage.
The DeWalt DXGNI2200 also features a parallel capability, which allows you to connect two units for increased output. This makes it a good choice for powering multiple electronic devices simultaneously.
The DeWalt DXGNI2200 is also equipped with low-tone mufflers, which help to reduce operating noise, making it ideal for use in quiet environments where noise pollution may be an issue.
Additionally, the DeWalt DXGNI2200 is equipped with various convenient features, including an LED control panel with a digital display, a convenient handle for easy portability, and an automatic shut-off feature that protects the engine from damage in the event of low oil.
Pricing
The DeWalt DXGNI2200 comes at an affordable price ($579), making it one of the most cost-effective inverter generators available. For those looking for an economical and reliable generator, the DXGNI2200 is an excellent choice.
With its low noise output and durable construction, this generator will keep you powered up no matter what job you have in mind. So if you're looking for a dependable source that won't break the bank, look no further than the DXGNI2200!
Design and Features of the DeWalt DXGNI2200
Power
The DeWalt DXGNI2200 is an inverter generator for recreational and job site use. The engine is an 80 cc Dewalt OHV 4-stroke engine that is designed to be fuel-efficient and produce low levels of noise and vibration.
The DeWalt DXGNI2200 is rated at 2200W of starting power and 1800W running wattage. This makes it suitable for powering small tools, lights, and other equipment that require relatively low levels of power.
Run Time
This DeWalt inverter has a run time of up to 11 hours at 25% load and 6 hours at 50% load. This gasoline-powered machine has a fuel tank capacity of 1 gallon, but it is very fuel-efficient. It provides an extended period of operation with minimal refueling.
This makes it ideal for powering various tools, lights, and other important equipment when you're away from home or other energy sources.
Outlets
The control panel of the DXGNI2200 features two Duplex 120V 20A (5-20R) GFCI-covered outlets. These outlets are designed to protect against electrical shock and electrocution. They work by constantly monitoring the electrical current flowing through the circuit. If an imbalance is detected, the GFCI outlet will quickly shut off the power to the circuit to prevent harm to the person using the electrical equipment.
This DeWalt inverter generator has two DC outlets (12V 8A receptacle and 5V USB port). These outlets make battery charging easy and conveniently charge your mobile phones.
Rated Noise Emissions
The DeWalt DXGNI2200 is considered to be a relatively quiet generator compared to other generators on the market. DeWalt specifies the noise level of the DXGNI2200 at 60 decibels, which is similar to the noise level of normal conversation and is considered relatively quiet for a generator.
Of course, the actual noise level may vary based on how the generator is used and maintained, so it's always a good idea to test the generator in the conditions in which it will be used to get a more accurate idea of the noise level.
Portability
The DeWalt DXGNI2200 generator features a compact and lightweight design with dimensions of 21.3L x 10.8W x 17.7H inches. It may have a small fuel tank, but it features a contemporary design perfect for recreational use.
The DeWalt DXGNI2200 weighs only 49 lbs, making it very portable and lightweight. You can easily carry the inverter from one place to another. The molded handle also adds more convenience.
Parallel-Capable
The DXGNI2200 can run in parallel with another DeWalt generator to increase the overall power output. The generator is equipped with a parallel kit port that allows two DeWalt DXGNI2200 generators to be connected in parallel to provide additional power.
When connected in parallel, the two generators deliver more power, making it possible to run larger tools and appliances that require more power. It's important to note that both generators must be the same model and be equipped with the parallel kit port to run them in parallel.
Economy Mode Option
The Economy Mode on the DXGNI2200 is a feature that allows the generator to operate more efficiently and conserve fuel. When the Economy Mode is activated, the engine speed is adjusted to match the power demand of the connected load. This helps to reduce fuel consumption and extend the run time, which can be particularly useful when running for long periods or in situations where fuel is limited.
By operating in the Economy Mode, the DXGNI2200 can deliver the required power to the connected load while consuming less fuel and producing fewer emissions. This can help to reduce the operation costs and also minimize its impact on the environment.
Light Indicators
Another awesome feature of the DXGNI220 is the light indicators. The LED control panel features low oil, overload, and output light indicators, which provide visual cues to help you monitor the generator's performance. These indicators can help you to quickly identify potential issues, such as oil levels or overloaded output, and take appropriate action to prevent damage to the generator or connected devices.
Built-in Fuel Gauge
The DXGNI2200 is equipped with a built-in fuel gauge. The fuel gauge allows you to monitor the fuel level in the generator's tank, so you can easily determine when it's time to refuel.
This feature makes it convenient to use, especially for generators with small fuel capacity, as you don't have to check the fuel level manually.
Automatic Low-oil Shutdown
The DXGNI2200 is equipped with a low oil level sensor that will automatically shut down the engine if the oil level falls below a certain level. This helps to prevent the engine from running dry, which can cause serious damage to the internal components and potentially result in costly repairs.
The automatic low-oil shutdown feature helps to ensure that the machine is operating safely and efficiently at all times and helps to extend the life of the generator by preventing damage to the engine.
Overload Protection
The DXGNI2200 inverter is loaded with amazing safety features. It is equipped with overload protection and a spark arrester.
A spark arrestor is a device designed to prevent sparks from escaping the generator's exhaust system and igniting a fire. It helps to ensure that the generator operates safely, especially in areas with high fire risk, such as forests and other wilderness areas.
The overload protection, on the other hand, is designed to protect the generator from damage caused by an overload of electrical energy. Suppose it runs at full capacity and is subjected to an overload. In that case, the overload protection system will automatically shut down the generator to prevent damage to the electrical components and help to ensure that the generator is operating safely.
Both the spark arrestor and overload protection features are important safety features that help to ensure that the DXGNI2200 inverter is operating safely and efficiently at all times.
CO Protect Technology
The CO (Carbon Monoxide) Protect technology in the DXGNI2200 is a safety feature designed to protect users from the harmful effects of carbon monoxide gas. Carbon monoxide is an odorless and colorless gas that fuel-powered engines produce. Prolonged exposure to carbon monoxide levels can lead to serious health problems, including death.
This technology automatically shuts down the engine if the levels become dangerous. This helps to prevent the release of harmful carbon monoxide gas into the surrounding environment and ensures the user's safety.
It's important to note that CO Protect technology is an important safety feature in many modern generators. Still, it should not be relied upon as the sole means of protection against carbon monoxide exposure. It's also important to use the machine in well-ventilated areas and to follow the manufacturer's guidelines for safe operation.
CARB-Compliant
The DXGNI2200 is CARB-Compliant, which means it meets the emissions standards set by the California Air Resources Board (CARB).
If you're looking for a CARB-compliant inverter, it's important to make sure you choose a model that has been specifically certified by CARB as meeting their emissions standards. This information can typically be found in the product specifications or the product label.
It's worth noting that while CARB-compliant generators are specifically designed to meet the emissions standards set by CARB, they may still emit some air pollutants and impact the environment. To minimize this impact, it's important to use it properly and follow best practices for operation and maintenance.
Warranty Information
Showcasing a durable construction, the DXGN4500 portable generator is covered under warranty for up to three (3) years. This warranty may be limited and may not cover all parts of the generator.
To learn more about the warranty policy of DeWalt generators, please read Dewalt's warranty policies. Alternatively, you can contact DeWalt's Customer Support: 1-800-4-DEWALT (800-433-9258).
Conclusion
Overall, the DXGNI2200 is a highly efficient and reliable inverter generator that is well-suited for use with sensitive electronics. Its compact size, low weight, and quiet operation make it an ideal choice for outdoor activities, camping trips, and other applications where clean, stable power is required.
About DeWalt
DeWalt has certainly made a name for itself in the power tool and equipment industry since it was founded in 1922 by Raymon DeWalt.
Partnering with Stanley Black & Decker, DeWalt continues to have a strong presence within the US, even having seven different manufacturing facilities located in the country to produce their highly popular hand tools, power saws, and other specialty products.
Recently, they've also begun offering an extensive line of portable generators with traditional open-style designs and various output levels, some running on Honda engines.
While most of their products are 'made in the USA,' according to some sources, DeWalt's portfolio of portable generators is not one of those exceptions as they are produced under license from Generac. Regardless, anyone looking for quality home or job site tools would be wise to give DeWalt's offerings serious consideration.