DeWalt offers a wide selection of generators for home and commercial use. And in this DeWalt DXGN4500 review, let's explore if it is really a reliable portable generator that can power lights and tools that you find on most every work site.
The DeWalt DXGN4500 features a 270 cc Honda GX270 OHV 4-stroke engine that produces up to 4,500 watts of starting power, with 3,650 watts of continuous power. It also has several features to balance power, efficiency, safety, and convenience perfectly.
We all want a lightweight and portable generator. Thankfully, the DeWalt DXGN4500 generator has a folding handle and wheel kit, making it an excellent choice for those who need an efficient and dependable power source on the go.
The DeWalt DXGN4500 generator also offers plenty of safety features, such as overload protection, low oil shutoff, and circuit breakers. With its robust construction and advanced technology, the DeWalt DXGN4500 generator is an ideal choice for anyone needing a reliable power source.
Great 4,500-watt Portable Generator
The DeWalt DXGN4500 Portable Generator is the ideal choice for anyone who needs a powerful yet portable generator they can rely on no matter where they are. Its heavy-duty construction ensures durability, while its numerous safety features ensure safe operation at all times. If you're looking for a reliable source of power on-the-go then look no further than this DeWalt DXGN4500 Portable Generator – it ticks all the boxes!
Pro's
Long Run Time
Fuel Efficient
Durable
Auto Low Oil Shut-off
Overload Protection
Portable
EPA-Approved and CARB-Compliant
Built-in Fuel Gauge
Con's
A bit noisy (76 dBA)
No electric start
Not for sensitive electronics (&lt
6%) THD
DeWalt DXGN4500 Review – Is It Worth It?
The DeWalt DXGN4500 generator is a reliable option that provides users with various features to make the job easier. The long-lasting engine offers up to 3,650 watts of continuous power, perfect for powering home appliances or tools. With a heavy-duty steel frame and integrated wheels, it's easy to transport this generator anywhere you need.
The DeWalt DXGN4500 also has an easy-to-use control panel, making it simple to operate and get going quickly. It has overload protection built in, too. For me, this is a nice feature as you can be sure that your equipment is safe from any surges or overloading. Its impressive economic design makes it more efficient than other similar units, reducing noise when running without compromising on the power output.
Want more? Well, the DXGN4500 generator comes with a reliable performance warranty, and all components are rigorously tested before being released, so you know you're getting the best quality for your money. It also boasts great fuel efficiency thanks to its low operating temperature and modern design. This means fewer trips to the petrol station, saving time and money when you need it most.
Pricing
So when it comes to cost – is the DXGN4500 worth the investment? At its price point of $1,859 (at the time of writing), you could argue that this generator offers value for money compared to similar generators in its class. That being said, you should consider all aspects of this generator carefully before deciding whether or not it is suitable for your particular requirements and budget.
Features Of The DeWalt DXGN4500
Power
This generator is equipped with the 270cc Honda GX270 4-stroke OHV engine. Honda is known for producing engines with exceptional reliability, and the GX270 is no exception.
The 4-stroke OHV design of the GX270 engine provides better fuel efficiency compared to 2-stroke engines. With a maximum power output of 8.5 horsepower, the GX270 engine provides enough power for many applications.
Honda's OHV design helps reduce emissions, making the GX270 engine an eco-friendly option for outdoor power equipment. The engine is also designed for easy maintenance.
This generator can produce a power output of 4,500W peak watts and 4,200W running watts. This allows for convenient and reliable power on the go, making it a great choice for camping trips, outdoor adventures, or light site work.
With its 4,500W peak watts, you can power a small AC unit, lights, TV, microwave, small power tools, and fridge with this generator.
Run Time
The efficiency of a generator depends on a variety of factors, including its size, type, and usage. Compared to other generators in its class, the DeWalt DXGN4500 won't disappoint in terms of performance and efficiency.
It has a run time of approximately 15 hours at 50% load. With its 7-gallon fuel tank, you could say that the DXGN4500 generator is reliable and efficient enough as a power backup solution.
Portable Design
The DeWalt DXGN4500 generator is the perfect solution for those who need a reliable, powerful generator on-the-go. The approximate dimensions of this generator are 28.2in Lx 21.3in W x 24.1in H.
This generator is not the lightest, as it weighs 160 lbs, but his generator has an open frame. lifting hook, and integrated wheels, which make it portable and easy to move from one location to another.
Just note that when buying this generator, there is an optional wheel kit available for purchase.
Durable Construction
The DeWalt DXGN4500 generator is an excellent choice for those looking for a durable, reliable power source. Many users, including the professional contractor, tracking maintenance, and rental operator, considered this generator a durable home, job site-tested generator for many reasons.
One reason is the generator's robust design. It has a solid metal frame and a heavy-duty construction that protects the engine and other components.
The generator is also equipped with a reliable and powerful engine designed to withstand tough job site conditions.
The premium alternator of this generator is also designed to handle high loads and provide consistent power output, making it durable and long-lasting.
Lastly, it comes impressive protective features like low oil shutdown and circuit breaker protection to prevent damage to the engine and generator.
Outlets
The control panel of the DXGN4500 includes six AC outlets – Two Duplexes 120V 20A (5-20R) GFCI, a 120V 30A (L5-30R) receptacle, and a 120/240V 20A (L14-20R) receptacle.
This DeWalt generator is not RV-ready. But worry not because the L5-30R receptacle allows an easy RV connection via an L5-30P to TT-30R adaptor.
Built-In Fuel Gauge
One of the best features of this generator is the built-in fuel gauge. Having the tank with fuel gauge allows you to monitor the fuel level in the generator's tank so you know when to refill and avoid running out of fuel during use. By keeping track of the fuel level, you can ensure the generator is not running unnecessarily, which can help to save fuel and reduce fuel costs.
Most importantly, knowing the fuel level always gives you peace of mind and reduces the risk of unexpected downtime due to a lack of fuel.
Automatic Low Oil Shut-off
Like most generators, the DXGN4500 generator features an automatic shut-off function. The oil auto-shut feature helps protect the generator's engine by automatically shutting it off when the oil level is too low. This prevents damage to the engine caused by running on insufficient oil. In the long run, it helps increase the lifespan of the generator.
Auto oil shut-off also eliminates the need for manual monitoring of oil levels, making the generator's operation more convenient and hassle-free.
Lastly, knowing that the generator will automatically shut off if the oil level is too low can provide peace of mind for the generator's owner and users.
Overload Protection
Overload protection is one of the things you need to look for in a generator. Thankfully, the DXGN4500 generator is equipped with this feature.
The circuit breakers prevent damage to the generator and other connected equipment by tripping and interrupting the electrical flow when an overload occurs. It ensures safety and reliability.
Digital Data Center
The control panel of the DXGN4500 generator includes a digital data center that provides information on the lifetime run hours. It allows for real-time monitoring of generator performance and condition, providing early warning of potential issues and enabling prompt corrective action.
This feature allows for better generator maintenance as it helps identify potential problems before they become critical, reducing the likelihood of unscheduled downtime and increasing the generator's lifespan.
EPA-approved and CARB-compliant
Aside from all the features mentioned above, it is noteworthy to mention that the DXGN4500 generator is EPA-approved. An EPA-approved generator ensures that it will emit fewer pollutants into the air, making it better for the environment and public health. It also assures that the generator operates within acceptable emissions levels set by the government.
Also, this generator is CARB-Compliant. To be CARB-compliant, a generator must emit lower levels of toxic air pollutants such as carbon monoxide and hydrocarbons. CARB-compliant generators are required for use in California and other states that have adopted California's air quality standards.
Warranty Information
Showcasing a durable construction, the DXGN4500 portable generator is covered under warranty for up to three (3) years. This warranty may be limited and may not cover all parts of the generator.
To learn more about the warranty policy of DeWalt generators, please read Dewalt's warranty policies. Alternatively, you can contact DeWalt's Customer Support: 1-800-4-DEWALT (800-433-9258).
Conclusion
The DeWalt DXGN4500 is an excellent choice if you need a reliable generator that won't let you down in tough conditions and will last for years. Thanks to its robust build quality and powerful engine, this portable generator will give you peace of mind knowing your needs are taken care of no matter the situation.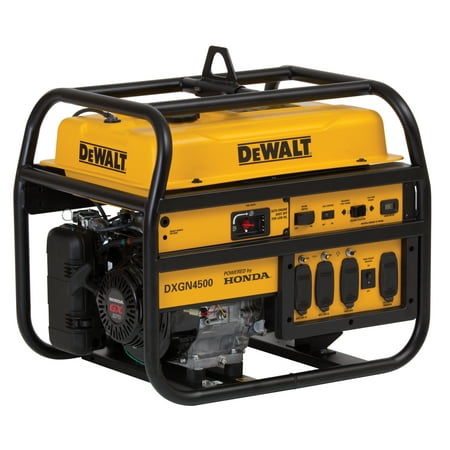 DeWALT DXGN4500 - 4 500-Watt Gas Powered Portable Generator 49 ST / CSA PD422MHI005
as of 09/27/2023 10:54 am
About DeWalt
DeWalt has certainly made a name for itself in the power tool and equipment industry since it was founded in 1922 by Raymon DeWalt.
Partnering with Stanley Black & Decker, DeWalt continues to have a strong presence within the US, even having seven different manufacturing facilities located in the country to produce their highly popular hand tools, power saws, and other specialty products.
Recently, they've also begun offering an extensive line of portable generators with traditional open-style designs and various output levels, some running on Honda engines.
While most of their products are 'made in the USA,' according to some sources, DeWalt's portfolio of portable generators is not one of those exceptions as they are produced under license from Generac. Regardless, anyone looking for quality home or job site tools would be wise to give DeWalt's offerings serious consideration.